LAUGHTER YOGA
The fun body-mind exercise that's a great stress buster
Living Healthier Lifestyle Seminars through Laughter Yoga are for…
Executive or Staff trainings, health and safety programs, Retreats, Symposiums, team building, staff appreciation events
special events, conferences, conventions
Church groups, Wellness Fairs, Recreation Centres
Retirement Homes, Long Term Care Centres, Hospitals, Hospices
Day Care, Public/High Schools, Colleges and Universities
Youth Organizations, Birthday parties, support groups
Bridal/Baby showers, One to one coaching, Prisons
* Laughter Makes Business Sense * Your employees won't be sitting in another meeting or lecture, where you hope they get the message. They are having a real-life experience where everyone feels the physical and emotional connections in their body, continuing the techniques and philosophies in every day work and personal lives. Standard packages for events:
15-minute sampler session, allowing participants to re-energize and focus
one and two hour laughter yoga exercise sessions (which results in improved health, better personal relations, stronger self-esteem, and enhanced productivity), followed by a 15-minute laughter/relaxation meditation to normalize their systems
8 week Life Coaching Program
Fees vary depending on program content, customization, and targeted results. Contact us to discuss further, either via phone 905-574-1765 or email at info@laughyourselfhealthy.ca.
Laughter Yoga is quickly spreading naturally into many different areas as people come to realize how the benefits can improve their lives. Its mission is to provide good health, joy and create a world without pain and illness. Laughter Yoga helps people to deal positively with mental, physical and emotional stresses that can otherwise lead to a breakdown in the workplace and in their private lives. It seeks to build an international community of like-minded people who come and laugh together and receive multiple health benefits.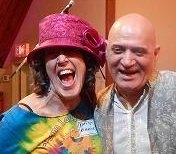 Laughter Yoga is a unique form of exercise that was founded in 1995 by Dr. Madan Kataria, a medical doctor from Mumbai, India, where anyone can laugh for no reason without the need for jokes or comedy. Dr. Kataria, and his wife, Madhuri, developed a program that combines laughter as a physical and playful body exercise with yoga in the form of deep yogic breathing (no poses). Scientific research shows that the body does not know the difference between real or fake laughter. So, while the laughter often is initially forced, it soon becomes real due to eye contact and the contagious nature of laughter in a group. What started as one group of 5 people in a park in Mumbai on March 13, 1995, has now grown to become a worldwide phenomenon with more than 8000 clubs in over 79 countries. Laughter Yoga has four active ingredients: laughing, singing, dancing and child-like playfulness. It doesn't work however, until it is actually used! No special equipment or clothing is needed. It is a great exercise for people of all ages. Keep in mind, 60 seconds of laughter equals 10 minutes on a rowing machine. Laughter Yoga is a high impact cardiovascular workout so drink plenty of water.
"At the height of laughter, the universe is flung into a kaleidoscope of new possibilities". Jean Houston
"Every great dream begins with a dreamer. Always remember, you have within you the strength, the patience, and the passion to reach for the stars to change the world."
—Harriet Tubman
Join Our Laughter Yoga Club
Hamilton Grooves with Laughter Yoga
Where: Hamilton Waterfront, Pier 8
47 Discovery Drive, Hamilton, Ontario
(we meet inside at Williams Fresh Cafe on the upper level during the colder months,
then we take our laughter outside to the Hamilton Waterfront Stage,
dress according to the weather)
Date: every Sunday
Time: 10:30 – 11:30 am
Cost: $5, children are free

Be prepared to have the happiest day of your life, so far!
Bring water and your child-like spirit
Please confirm your attendance before 10:00 on Sunday morning
905-574-1765
Laugh Stress Away with Child-like Play
Certified Laughter Yoga Leader Training
Register now for our upcoming Certified Laughter Yoga Leader training,
February 11 & 12, 2017 on the workshop page and unleash your laughter potential!
Learn More
Get in on the Fun!
Join our newsletter and receive our seven main benefits with the description of the corresponding exercise to go with each one.
Contact Kathryn
by phone or email for more information Email me!
905-574-1765
Mark Twin understood the need for laughter when he wrote: "The human race has only one really effective weapon, and that's laughter. The moment it arises, all our hardnesses yield, all our irritations and resentments slip away, and a sunny spirit takes their place."