This quote by Milton Berle says it all.
"Laughter is an instant vacation!"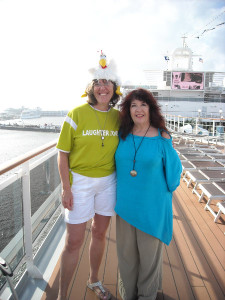 Dreams come true when you are laughing
Tahira Badre and I on the MSC Poesia Cruise ship in 2011
where she taught belly dancing and I facilitated laughter yoga sessions
for a five day empowerment women's seminar!
" A week ago I had the great fortune to spend a weekend taking the Laughter Yoga leader training with Kathryn Kimmins. It was a life changer.
First, let me say what an amazing person you are! You not only led us through all the intricacies of Laughter Yoga, with laughter sprinkled throughout and seriousness when needed, but you also gently guided each and every participant to bloom in their own fashion. And you were dealing with your own personal situation at the time, without letting it intrude on us. Very good, very good, yay!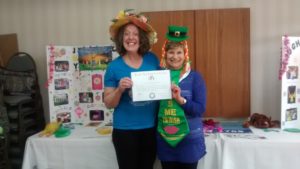 I now find I'm much more open to laughter and happiness in all aspects of my life. An unexpected bonus is that after the first day, I realized that my painful, stiff neck and shoulders which had been bothering me for over a month had disappeared. A week later, I still have full range of motion in my neck and absolutely no pain or stiffness.
Laughter yoga healed where other medical options had not!
Am now in the process of putting together a plan for my first Laughter Yoga session with students this week!! I can't wait to do it! (but also a little nervous) Very good, very good, YAY!!
Will keep you posted."
Sandy Carlin, Certified Laughter Yoga leader
We had SO much fun with you on Friday. You are really good at what you do. It was a perfect way to end a busy day and I am glad we did it outside. Thanks again.
Valerie Sadler, M.Ed.
Women's Services – Inasmuch House
Mission Services Opportunity Centres
Ph: 905-529-8149 Ext. 301
Thank you for your excellent presentation to Ancaster Probus this morning. Your effervescent personality and easy to hear directions made it a joy for many.
Karen Laposa
Thanks so much for all of your follow-up and support, and for the WONDERFUL training session this past weekend. WOW! Where do I start?!! I got SO MUCH out of the two days spent with you and the other participants and I feel so inspired! What a great group and I loved how we all bonded right away and how much fun we had while learning so much. The session was so informative, I loved the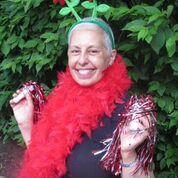 different ways information was shared and how the session flowed. While we covered a considerable amount of material and followed your outline, I also felt there was a lot of spontaneity and appreciated how you made sure to make time for our questions and to allow for free-flowing dialogue. I found that both days just flew by.
I'm so glad to have met Laughing Kathryn / Kathryn the Great! What a wonderful and generous-spirited person you are – thank you for sharing so much of what you do so well with us – and what FUN we had!
Yours in laughter and snorting,
Karen Dinsmore, Certified Laughter Yoga leader
Kathryn,
What a fun and amazing weekend; THANK YOU! I am so excited to bring this to London and to the women in my groups and beyond. Laughter and fun changes lives and I am inspired by you. Thank you for facilitating an informative, interactive and fun course for us.
You're a hoot!
Christine Vandenbor, Certified Laughter Yoga leader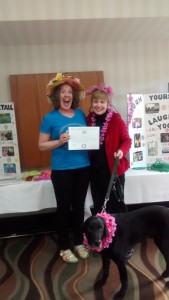 "I was first introduced to Laughter Yoga in November of 2014. I attended the demonstration with trepidation because
I do have some physical limitations. Kathryn Kimmins explained if you can laugh and breathe you can participate in Laughter Yoga. We spent the next fifteen minutes going through breathing exercises and laughing. I was hooked. I am visually impaired. Gibson, my guide dog, is my constant companion. Kathryn advised the other students that Gibson and I would be joining them. Everyone made us feel welcome. When it came time to take pictures, Gibson was included. Kathryn was patient as she explained verbally to me not by actions how to perform the moves. It was a tiring course over two days. She paced it well and encouraged us to go at our own pace. She taught how Laughter Yoga can be adapted for all age groups. I volunteer with seniors, long tern care homes, neighbourhood communities and prison ministries. I can see how laughter clubs can benefit all of these groups. My first laughter club will be with a deaf group.
Everyone can benefit from Laughter Yoga".
Kathy Wolsey, Certified Laughter Yoga Leader
"You may recall we spoke briefly Saturday morning after your half hour session helping us relax and laugh. For me it was the best part of the convention. I would like to repeat the invitation for you to come to our Summer Solstice Energy Healing Retreat".
"I so enjoyed Kathryn Kimmins Laughter Yoga event at the Canadian Dowsing Convention that I invited her to our June Equinox Healing Retreat. At the retreat my husband Everett , was immediately sold on laughter. He now is signed up for the 2 day training next weekend.
Ho Ho Ha Ha Ha!!! He's tagging me along!"
Everett completed his leadership training Oct. 2011.
Trudy
Kathryn, your presentation was wonderful. It was a lot of fun and a real eye-opener for our Rotary Club of Stoney Creek members. I spoke with a number of our members afterwards and they really enjoyed your talk and the exercises you took us all through.
Thanks again,
Phil Shames, Owner, Ecosuds
Dear Kathryn,
"Workplace Group and I would like to thank you for your time and expertise to the 2011 Get MACtive Employee Health Challenge!
This was the most successful challenge we have held to date with over 600 people competing on over 80 teams. The challenge feedback was also better than ever with people raving about each session that was offered throughout the challenge.
None of this would have been possible without your support!
Thank you again for being involved! I look forward to working with you again in the near future".
Krysta Clark, Health Workplace Program Coordinator, McMaster University
I have been going to Hamilton Grooves with Laughter Yoga Club with Kathryn Kimmins since December 2015.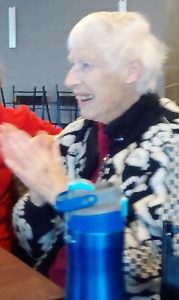 Laughter Yoga has helped me with my sleep apnea so much I haven't needed to use my machine for six months. Even the discomfort of Raynaud's disease has decreased since doing Laughter Yoga.
In October 2012 I moved with my boyfriend whom I've known for 46 years, from our hometown in Winnipeg, Ontario to Hamilton, Ontario where we bought a condo together.
It was then that I started to feel isolated and stressed. With no friends and family around and hardly any new friends in the condo I became depressed.
One day I took DARTS to Pier 8 and was walking towards a group of people who were laughing on stage. A woman, (Kathryn) asked if I would like to join them. Not knowing what Laughter Yoga was, they just looked like they were having fun, I joined in. They welcomed me into the circle with laughter introductions and smiles.
Since joining I have laughed in the sunshine, rain, sleet and snow. I have met a wonderful group of caring individuals who are supportive, listen to me go on and on and offer me their loving kindness.
Laughter Yoga has allowed me to be emotionally stronger & physically active like I use to be. I am more open and feisty. I no longer feel sorry for myself or angry at myself. My attitude has changed to being more positive.
Laughter Yoga has helped open my eyes to my partner's Narcissistic behaviour. I don't make excuses for him anymore, and his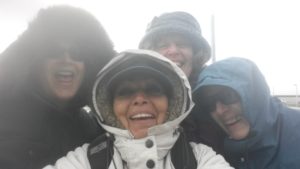 isolating behaviour doesn't bother me any longer. I am now strong enough to end the relationship.
As a result I feel a lot happier. I seldom miss my Sunday laughter fix. I now have something to look forward to. Every time I join Kathryn and my laughter support group I learn more about how laughter is changing my life.
Jean Scriven (82 years young in Sept 2017)
Jean is on the right side during a sleet storm
"Laughter Yoga was a new concept to me. I joined out of curiosity. I am glad I did and I benefited from it. Yes, we laugh a lot; sometimes we have to force the laughter but then it continues naturally. Through laughter, we do affirmations, along with some physical routines and breathing exercises. The class is structured and interactive. The meditation at the end is a good culminating exercise.
I feel it to be a safe environment to let go of my inhibitions and be myself and discover the potential to rid my being of baggages. At the end of the session, I felt better and that I got quite a workout without having to stretch on a mat".
Diva (Sackville Hill Seniors Recreation Centre)
"For my health's sake I prefer not to discuss too many details regarding my scars. However, I will say this:
I am a woman who is personally acquainted with bombings, displacement from home and country; has seen assassination, was separated from father during the escape, witnessed harassment of my mother during this escape, was hostage to the man my father entrusted with our safety (all this before the age of three).
Later on, survived physical abuse, sexual molestation, domestic battery, severe endometriosis from my teen years, culminating in hysterectomy in 2004. Multiple experiences with bullying during elementary school and work-life, culminating in two nervous breakdowns in the span of 25 years.
The most recent of these being almost 2 years ago. Since that time I have been climbing back up. I have written and released multiple songs and a full cantata. I have seen a door close while another one opens. I feel optimistic about the future and so grateful to have been exposed to Laughter Yoga. It has been the most dramatic/effective tool in my recovery".
Prefers to remain anonymous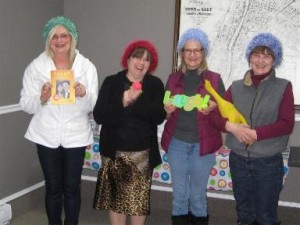 Laughter truly is the best medicine and the sunshine of the soul. Although our numbers were small, our energy was off the Richter Scale.This event far exceeded expectations!
I wonder, if this was taught in schools, could bullying be something of the past?
Elaine Murphy,
Certified Consulting Hypnotist in Cambridge, Ontario and a member of the National Guild of Hypnotists
"Having heard about Laughter Yoga I was curious to experience it for myself. A couple of colleagues and I attended a class at Concession on the Mountain Laughter Yoga club facilitated by Kathryn Kimmins and boy, did we laugh. It was a wonderful experience to just let go and let the playful child come out. There were times during the class that I was laughing so hard I was crying, and others followed suit. All of the worries of the day were gone, and my mind was free to let go. I felt refreshed and cheerful when I left the class. As I was driving home I noticed my abdominal muscles were fatigued and I felt great".
Sylvia Griffin
I would like to share a story of a young woman who attended my Laughter Yoga classes back in 2013. Her name is Lori. Her mode of transportation is wheelchair, she is non-verbal and her zest for life is laughing, hugs and going for bumpy car rides. At least that's what I was told by the women who brought her every second and fourth Tuesday.
She's laughing even before she arrives.
During the class her eyes are sparkling and twinkling, her cheeks get rosy and she has a permanent grin on her face.
One Tuesday night, we had four new people come to the class at the Music Palace. For some people laughing is a very hard thing to do, even when it comes to faking it. It doesn't come easy for them.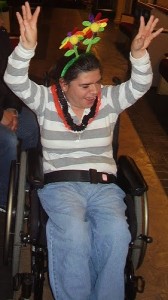 One particular young man in his twenties, who came to the club for the first time, hadn't laughed since he was a child. His mother thought laughter yoga might just be the thing for him. We started with our warm up breathing exercises and then got serious about the laughing part of it. This is where it gets good.
Lori started wheeling herself around to the other participants, while reaching out to them. The young man amazed me by reaching back and laughing along with her. At one point while I was explaining an exercise, Lori started to demonstrate how it was done. I was so thrilled by this, I started cheering her on and everyone followed suit. The young man laughed and tapped into his child-like spirit for the entire hour. It was an amazing transformation. His mother mentioned that she hadn't seen him laugh so hard and for so long, since he was little. Laughter Yoga is a transformative experience
As for Lori, she keeps spreading sunshine wherever she goes. She is truly an inspiration!
Laughter has so many wonderful benefits, but the part I like best is watching strangers interact with other in such a fun way that they end up connecting in a way that is so exciting.
Laughter Yoga is a unique concept that sets us free of obstacles and life's challenges and allows us to be who we are meant to be.
Laughing Kathryn
Thank you Kathryn
Just to let you know we had a great time and the ladies were just fun & nice. You are a wonderful instructor!
This has done so much for Jim as he was a sought after fitness instructor before his back problems. He is feeling the passion again.
Wendy Lau & Jim Lau (Certified Laughter Yoga Leaders)
Green Beer Smoothie Laughter Exercise
Blossoming Flower Exercise
Pot of Gold Laughter Exercise
Walking Under a Ladder Laughter Exercise – Irish Superstition
"Kathryn and I have enjoyed doing B2B and we have developed a great friendship in business. Through her teaching of laughter yoga I have learned to have less stress in my business and more enjoyment in my everyday living. I feel stronger, more in control of my life. Her healthy lifestyle is spread to others through her amazing smile and warm heart. She shows you a way to see the sunshine in your every day activities.
Laughter yoga is an easy exercise that anyone can do, no mats needed, no twisting bodies, no bending over backwards to reach a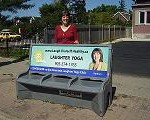 certain position. You just have fun, learning to breathe deeply while standing or sitting on a regular chair whether you are 1 or 100. Laughter Yoga is a great way to enjoy life and improve your ability to get on with your day with less stress.
I highly recommend you try a Laughter Yoga class stop by Hamilton Grooves with Laughter or book a corporate class for your staff."
Creative Outdoor Advertising worked directly with Kathryn at Laugh Yourself Healthy
Carolann Bosett, District Manager – Hamilton (carolannbosett@creativeoutdoor.com) Ancaster – Dundas – Stoney Creek
"Kathryn,
I'd like to thank you for helping me to learn to laugh again. As I mentioned, I have been struggling with depression. The first week I had trouble remembering what it was like to laugh. Now, after several weeks, it has become easier to smile and laugh. I sincerely thank you for the positive difference you have made in my life".
Joanne (Sackville Hill Seniors Recreation Centre)
Kathryn was introduced to the Kiwanis Adult Day Program in 2011 and our participants look forward to having her come on a monthly basis. Kathryn, has touched the souls of our participants and have gained confidence by her visits. She has a way with our participants that get them involved and interacting in ways that they have never done before. We are blessed to have such a unique way of programming and would suggest having Kathryn as your Certified Laughter Yoga Teacher.
Connie Rocheleau, Supervisor-Kiwanis Adult Day Program
You are so lovely and hilarious! You brought out the silly and belly laughs in all of us! Anyone looking to have a room full of people giggling and smiling should book Kathryn Kimmins! Very, very good! YAYYY!
Just wanted to send along my sincerest thanks to you for "bringing down the house" with your Laughter Presentation at our Conference on April 19, 2018, at the Oakville Conference Centre. AND for hosting a Cranial Sacral Massage exhibit! It was all so lovely and really nice to have met you!
You have such a beautiful joy filled presence! Everyone loved you and the buzz at the end of the day was and continues to be very upbeat and positive! As people were leaving, I heard some chatter about wanting to look into booking you for a couple of events. I sincerely hope this happens for you!
Photos from the event are posted on the Access Abilities Facebook page which you may have already seen.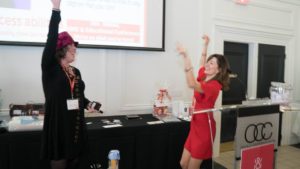 It was such a treat to let loose and laugh with no inhibitions during your great laughter session! I smile and giggle just thinking about it! Laughter is good like a medicine! So great for our heart and souls… You are the wonderful Laughter Ambassador who helped make our conference the lovely success that the feedback suggests it was! Thank you, ho, ha, ha!
I still giggle out loud at my desk when I think about that laughter yoga session and all those who highly enjoyed it! It was beyond wonderful and keeps me smiling broadly right from my heart!
You are a star! You are such a blessing and a fantastic la ha ha laughing ha ha ha lady!
Hope our paths will cross again soon lovely laughing friend!
Hugs and ha! ha! ha! ha-ppiest smiles and giggles forever,
Kristin Courtney
Access Abilities
Hello Kathryn,
Thank you so very much in making the event so much fun. I was very happy with your presentation. You made everyone feel so comfortable and therefore it was easy for them to participate. The ratings were all 9 & 10 so that is awesome. Thank you once again for your professionalism and providing so much FUN! FUN! FUN!Look forward to getting together soon. I will be in touch. "Wishing you warm breezes and laughter."
Namaste
Fran Maiolo, RBC Dominion Securities
Hi Kathryn,
My name is Lynn, we met at Cedar Springs Rotary Fitness Centre this morning.
I am impressed with how well I feel and have had many private giggles all day.
I would like to become one of your students when you get your teaching certification.
I spend the afternoon with a lady in her 90's and was telling her about your class.
Also showed her some of the laughing moves, let me tell you we were both in stitches.
(she tried it too).
She said she can't wait for next week for us to giggle again.
Thank you for showing us what you do.
Now every time I meet up with someone who was at the demo, we just start smiling and it turns into laughter.
Lynn
"Please allow me to introduce myself. I work at Mohawk College as a career coach. You taught our team laughter yoga on June 8th at the Royal Botanical Gardens. You probably don't recall, but I was the lady who complimented you on your beautiful hat prior to your workshop.
Since taking your class, I have been laughing every morning for 10 – 15 minutes. I can't thank you enough for coming to our PD day.
I now want to take your 2 day laughter yoga instructor training course at the end of Sept.
Since taking the day training in Sept 2017
Inspiring, positive and informative are words I would use to describe Kathryn Kimmins.
Recently, I had the pleasure of attending the 2 – day Laughter Yoga leader training with Kathryn.
It was a weekend full of laughter, fun and learning and I can't thank her enough for sharing her gifts with us.
Just for a few minutes, as I walk to work every day, I stroll along, laughing and clapping. Before long, I feel different, I feel more energized and light, and I quickly find myself smiling ear to ear. Lately, I have noticed that even just thinking about the laughter weekend class brings a feeling of positive energy. It's amazing actually how little effort is required to change the moment.
Laughter yoga works for me every day and I am now better equipped to help my students that are sometimes feeling defeated in their job search journey. When this happens they tend to not do so well at interviews. I believe laughter yoga will help the students present themselves at interviews more confidently, because when I do other positive psychology activities with them, together we write amazing resumes. However, I can't go with the students to the interviews to help them boost their confidence, but laughter yoga can.
Thank – you Kathryn for sharing your passion and teaching others to spread laughter around Hamilton and beyond.
Wishing you a great laughing week.
I am sure you hear this every day, but it is important for me to say now, "You are changing the world Kathryn, and that is so amazing and rare."
Kind regards,
Sally Simpson
"I have a fabulous lady for your tune – up she teaches laughter yoga. Her name is Kathryn Kimmins. This is a cardio vascular workout while you laugh non stop. It is the best thing I have ever been a part of and if you want to check her out in advance – come and join me and my volunteers at Dr. Bob Kemp Hospice on Thursday March 31 from 7 – 8 pm.
Lynn Berven
"I started doing Laughter Yoga a few months ago. I have multiple sclerosis and have limited mobility and this is one form of exercise that I can do. MS is an autoimmune disease that can lead to damage in virtually any part of the body. Your immune system attacks itself and leaves damage to the myelin sheath (cover over nerves) which short circuits the messages coming from the brain and spinal cord. I have trouble walking and using my right hand and get fatigued very easily. After a few classes of Laughter Yoga I found that I was able to sit up and get out of bed with ease compared to struggling beforehand.
I have also regained the feeling in my foot which has been numb for 6 yrs. I read that training your brain to be happy can create new neural pathways and now I believe it. Kathryn is amazing and has the most infectious laugh. I look forward to more laughter classes.
"Hugs, Debi
Hi Kathryn,
I want you to know that the ladies here all LOVED your workshop and it was a really joyous gift for us all to have you here, sharing your laughter and knowledge with us.
I can still hear your infectious laughter ringing in my eyes and lighting up my eyes with joy.
Thanks very much,
Shira Moalem
Program Director
Gilda's Club Greater Toronto
Kathryn Kimmins, our Certified Laughing Yoga Teacher, did a great job. She was charming,

enthusiastic and totally audible.
It was simply delightful to see so many Dazzlers (32 and 1 guest) in one room and all of them laughing it up at one time.
Marlene Anderson (Red Hat Dazzlers)
Hi Kathryn:
Thanks for spreading the joy. I got my laughter yoga certification here in NB this month.
I look forward to my first class at my son's school this week.
We're going on a mission trip to Trinidad in June, maybe I'll get to use it there.
Hopefully I can start my own club this summer/fall.
Just want to say thanks for your love and encouragement and for doing that class with me the first day we met,
it made a difference!
Peace and love to you,
Sue Oborn
Kathryn,
I just wanted to thank you so much for speaking at our International Women's Day dinner (Status of Women, OSSTF, District 21). Well more than just speaking……INSPIRING….everyone LOVED YOU! And I did wake up the next day, very tired, and didn't I do one of your exercises…..and I FELT READY TO FACE A FRIDAY…with a SMILE! You are truly wonderful my friend. So glad to have met you!
Moe Dwyer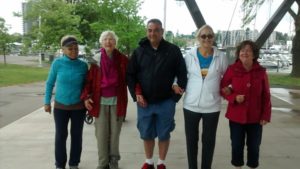 "Laugh Yourself Healthy" with Laughter Yoga.
For me, these words could never be more true. I have bipolar disorder, rapidly cycling through periods of depression and hypo-mania. Since joining a laughter yoga group under the guidance of Kathryn Kimmins and practicing laughter yoga at home, my cycles are less often and less acute. Kathryn has the unique ability of making laughter come alive, involving participants in the joy of laughter and of life. For me, this is a movement towards improved health. I experience not only the physical health and social benefits of laughter yoga, but significant mental health benefits as well. Including play on a daily basis means I have added joy and zest to my life. Little yellow stickies plastered around my house remind me to be playful. I sing, dance, do silly things, color, and laugh spontaneously. My anxiety has eased, meaning I am less reliant on medications. My stress is relieved, my mood improved and my resilience enhanced. I am not one to appreciate jokes, so originally was suspicious of laughter yoga. I have had a complete turn about. The unconditional laughter of laughter yoga has won me over, making me a true believer and consistent supporter of laughter yoga and of Kathryn Kimmins.
Sheryl
Dear Kathryn,
We are all thrilled to have enjoyed you as a most wonderful conclusion to a very special evening!
Our Sex, Humor and Health seminar was greatly covered from the different perspectives, and I could see how well you engaged us all, explaining the laughter effect and engaging us with interactive laughter yoga exercises! Thank you very very much!
I am glad it was a meaningful evening for you too.
Best wishes for good laughs, to good health all around and in you!
Cheers,
Line Troster, Physiotherapist
http://www.linetroster.ca
Dear Kathryn,
I wanted to thank you again, most whole heartedly for the fun and frolicking presentation on Monday night for CFUW Burlington.
What a great lesson you taught me. The whole CFUW group in fact! What a delightful time we had!
I took away some very positive and laughter filled ideas from your presentation!
I also wanted to let you know I immediately started laughter yoga with my two grandsons. Our three year old grandson has even come up with his own laughter moments "Coo. Coo Coo. Coocococococococococoooo" and the sounds monkeys make "Ouw. Ouw Ouw. Ouwouwouwouwouw"
Laughter helps to turn frowns upside down. The whole family is encouraged by Very Good, Very Good, Yay with their successes!! Noah is learning how to dress himself and waits for the positive reinforcement. And I do the wonderful Ha Ha, Ho Ho, He He, Hi Hi, Coo Coo etc around 5 pm, to get over that " when is dinner, I am exhausted" hump!! with the little boys. Even James, 18 months old holds my hands to do "hahahahahaha"
And they enjoy "Very good, very good Hooray" for successful and cooperative moments.
Best wishes, and I hope to see you soon,
Joanne
CFUW Burlington (Canadian Federation for University Women)
I want to share with everyone my wonderful experience during the Laughter Yoga Training.
I had a lot of desire to do this workshop since finishing my Psychology career degree in Venezuela,
but I had a hard time finding someone to train with in Venezuela.
When I arrived in Canada, I began my search. After googling laughter yoga I arrived at an attractive
website with all the information I needed about the Certified Laughter Yoga leader training.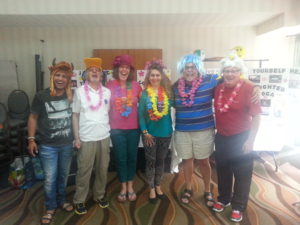 Not only were the testimonials informative, the explaination on why it is important to laugh without
depending on jokes or watching funny movies was helpful in understanding how laughter can help you
maintain a healthy lifestyle!!
It has been a great privilege to have met such special person to teach this content… Kathryn Kimmins.
She is undoubtedly an awesome professional who with just a look you can connect yourself with;
she has inspiring deep blue eyes that evocate relaxation, and experience. Her smile,
and contagious laughter helped us to laugh openly and without reservation…
In the two days she taught us the 40 foundational exercises, explained the multiples benefits of laughter yoga
and why it is so important to breathe from the diaphram.
After the two day training, I feel I have learned enough skills to run my own classes with different groups,
as well as an ideal tool to combine with my profession.
The Certified Laughter Yoga Leader Training has transformed my life with a new perspective, to
see the importance of laughing everyday, while giving me the energy and strength to move forward.
If you want to feel better, you need to laugh with Kathryn!!!
Martha (Certified Laughter Yoga Leader)
I have always been a person enjoyed laughing herself silly so when I first heard about Laughter Yoga I immediately wanted to find out more. I learned that Laughter Yoga started in India, through Dr. Kataria and his wife Madhuri, who were convinced that laughter in fact is the best medicine. A few minutes of laughter does provide a full body workout. It moves every single muscle in our bodies, helps unwind negative effects of stress and boosts our immune system.
Through the support of the Staying Strong Program (Thank You!) we were able to invite laughter yoga teacher Kathryn Kimmins to two
social events this summer. At both events, a group of close to 40 people came together for a summer potluck dinner and – surprise – was invited to participate in a laughter yoga session. Nearly everyone joined and the few who choose to watch from a safe distance could not help but to giggle and laugh with us – laughter is so incredibly contagious. And what a laugh we had. It was incredible. Relaxing, engaging, and refreshing.
And the best part of laughter yoga? Everybody – really everybody – can do it. You can do it on your own at home alone or with an instructor on the computer screen, you can do it in groups that meet in parks, health or community centers or care facilities. Laughter Yoga lends itself to be integrated into the balanced, active, healthy lifestyle that is so beneficial for people affected by Huntington's Disease. Research has proven that you can significantly delay the onset of HD by staying physically, mentally and socially active, and we have much reason to trust that taking good care of yourself can slow down the progression of the disease. I am referring to a previous Horizon Newsletter that reported on a survey with more than 150 people at risk for HD in Australia and New Zealand.
The survey revealed that "people who were active – either physically or intellectually – developed symptoms as much as 4.6. years later than their couch potato counterparts."
The recommendation was and is to "play an instrument, learn a new language, hit the tennis court or just walk".
Let's add laughter yoga to the list!
Maike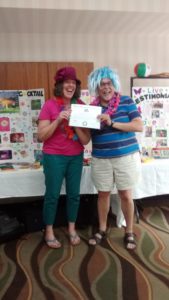 Just want to thank you again for the incredible and transformative weekend of laughter and joy. I have not been the same since. Our local hospice is going to use Laughter Yoga as a complementary practice and I will be presenting a demo/intro at the local library in the fall. Should be fun. When I retire in October I will have more time to develop a Laughter Club. Prior to this I hope to do some sessions at work for clients who are depressed and want to have more joy in their lives.
Thank you for the awesome experience. Your enthusiasm and energy is highly contagious and inspiring. I know I'm on the right path.
Cheers Ha Ha
Rick (Certified Laughter Yoga Leader)
After the first day of the Certified Laughter Yoga leader training I felt more at peace. Driving to an event that took place in Toronto that evening I was calm, cool and collective without realizing it. Laughter Yoga reduced my stress level in a challenging and overwhelming situation.
Meka Matthews, Certified Laughter Yoga leader
Thank you for sharing some laughter in the Cotton Club Coworking Space. You absolutely uplifted the audience with your smile & energy.
I think every organization should have you in to boost employee moral and productivity. Oh the healing power of a smile!
Annette Paiement
"This weekend of laughter yoga leader training has been incredible. Kathryn does an amazing job explaining the benefits of laughter and leading creative and fun exercises! It's a great way to meet people and come out of your shell.
I felt so happy and energized at the end of this workshop"!! :-}
Meaghan Beattie, Certified Laughter Yoga Leader
"After two days of laughing my body is now more relaxed. A smile is more evident on my face. I feel more positive then when I arrived.I enjoyed Kathryn's smiley style! Keep up the good work."
Vickie Micallef, Certified Laughter Yoga Leader
"Laughing for the Health of It"