Basic Learning Course
Laughter Yoga is a unique concept, so a person needs to be trained as a laughter leader in order to lead a group of people through a Laughter Yoga session and a laughter meditation. Whether it is a social laughter club, corporate session, Laughter Yoga for schools, seniors or people with special needs, Laughter Yoga exercises remain the same with slight variations according to the need of a group.
One day Basic Learning Course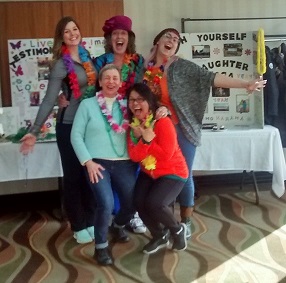 The Basic learning course is a one day experiential workshop where participants get a basic knowledge about Laughter Yoga and how it works as well as learn about the immeasurable benefits it provides for the body and mind. You will experience a Laughter Yoga session, involving different breath exercises, a Laughter Meditation and relaxation meditations. You will learn how to get involved in Laughter Yoga and its different practices. You will also learn to laugh all by yourself and get some practical ideas on how to bring more laughter into your life and others. The one day training can be held at your choice of venue or at the Admiral Inn, in Hamilton, ON  Canada.
For more information contact Kathryn Kimmins
kathryn@laughyourselfhealthy.ca
905-574-1765
"I am focused on helping people to understand how the power of laughter can build better relationships and increase healthier lifestyles through creativity, imagination and the four elements of joy, dance, play, laughter and singing"!
~~~Kathryn Kimmins