Workshops
Certified Laughter Yoga Leader Training
LAUGH YOURSELF HEALTHY WITH LAUGHTER YOGA IS AFFILIATED WITH DR. MADAN KATARIA'S INTERNATIONAL LAUGHTER YOGA UNIVERSITY IN BANGALORE, INDIA
NOW ENROLLING for: Oct 20 & 21, 2018
Admiral Inn, Meeting Room, 149 Dundurn St N, Hamilton, Ontario L8R 3E7
Time: 10:00am – 5:00pm
Bring your own lunch or dine in at the Admiral Inn (please, no perfumes or nuts)
NEW EDUCATIONAL SEMINARS Laugh Yourself Healthy, directed by Laughing Kathryn, offers Certified Laughter Yoga Leader seminars. In these delightful, interactive learning experiences, you'll become certified and affiliated with Dr. Kataria's International Laughter Yoga University.
LAUGH YOURSELF HEALTHY WITH LAUGHTER YOGA IS AFFILIATED WITH DR. MADAN KATARIA'S INTERNATIONAL LAUGHTER YOGA UNIVERSITY IN BANGALORE, INDIA NOW ENROLLING for:
October 20 & 21, 2018
Hamilton, ON. Canada
This weekend of laughter yoga fun and learning is for anyone who wants more laughter and joy in their life, and enjoy a weekend of healing and stress-busting laughter. In this experiential and empowering training, you will gain a thorough understanding of all aspects of laughter yoga, and receive certification as a laughter yoga leader from Dr. Kataria's School of Laughter Yoga. Experience the fun of connecting with your inner joy and child-like playfulness as well as the freedom of liberating your laughter from logic and conditions. During the weekend, you'll:
ascertain the principles of laughter yoga
learn how to introduce laughter yoga to different venues
the 40 Foundation laughter yoga exercises
develop leadership skills
discover the science behind Laughter Yoga
gather information on how to run your own laughter yoga club
understand the history of Laughter Yoga
This training will provide you with the confidence to lead laughter yoga sessions, start a laughter club, present laughter yoga to various groups while spending the entire weekend laughing, playing, dancing, bonding and meditating with a fabulous group of people. Become part of the global movement to spread laughter for peace, joy and good health. The two day process of training in laughter yoga provides certification at the level of Laughter Yoga Leader (CLYL). This training provides all the foundational concepts and practices that have been developed for leading a group through the process of a laughter session. The laughter session is easily modified to accommodate various levels of capability and content.
WHO NEEDS THIS COURSE? The following professionals have found great value in becoming a laughter yoga leader:
Doctors and nurses
Hospital social workers
Athletic trainers
Occupational and physical therapists
Yoga teachers
Alternative therapists and healers
Life coaches
Therapeutic recreation therapists
Psychologists and psychotherapists
Counselors
Motivational speakers
Educators & educational administrators
Performance artists including actors, singers, clowns and comedians
Nursing care activity coordinators
Hospice volunteers
HR and management training professionals
Tourism professionals and tour guides
As a Participant, you can expect to:
*create a deeper sense of connection to your authentic self
*uncage your heart and tap into its wisdom and power
*feel lighter, have peace of mind and be inspired to action
*experience powerful shifts in your perspective
*access your courage as you confront and overcome fears
*feel increase levels of self-awareness, self-esteem and confidence
*discover how to transform "victim" mentality to that of empowered creator
*explore untapped leadership potential and gain clarity around your purpose
*experience alignment of mind, heart and body
*identify and transform key patterns of behaviour and limiting beliefs
*be equipped with empowering self-love strategies
*create powerful even lifelong connections with other participants
COURSE FACILITATOR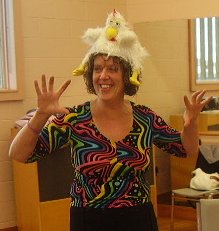 Kathryn Kimmins, a Healing Energy Minister since 2002, delivers through spiritual guidance Hands-on Healing encompassing Reiki, CranioSacral Therapy and Touch for Health. It seemed natural that the next major therapy to add to her skill set would be Laughter Yoga. Following her Certified Laughter Yoga leader accreditation in 2010, Kathryn founded Hamilton Grooves with Laughter Yoga, Living Healthier Lifestyle Seminars through Laughter Yoga and the Pied Piper of Laugh-a-Lot Program for Children. In October, 2012, she became a Certified Laughter Yoga Teacher from the Iowa School of Laughter Yoga with Master teacher trainer, Laura Gentry, which is affiliated with the Laughter Yoga University of Bangalore, India. The training was held at Assisi Heights Spirituality Center at the Sisters of Saint Francis. This is a gorgeous retreat center on a generous portion of green space right in the heart of Rochester.
One of Kathryn's many highlights as a laughter yoga teacher was when she was appointed as a Laughter Ambassador, Canada in 2017 by Dr. Madan Kataria, founder of Laughter Yoga for her dedicated and selfless services to promote Great Health, Joy and World Peace. A great achievement in the world of Laughter Yoga professionals.
Kathryn has facilitated presentations, and led and taught laughter yoga across Canada, since 2010, at corporate events, colleges and universities, retirement homes, financial institutions, recreation centres, church functions, outside evemts at City Hall, Hamilton Health Sciences, Toronto East General Hospital, health and wellness events, retreats, hospices and women auxiliary groups.
Audience numbers have exceeded 600 participants laughing for no reason. An enthusiastic and infectiously positive public speaker, Kathryn Kimmins energizes attendees and directs unforgettable laughter experiences. Kathryn's workshops dissipate stress while refocusing attendees. Cheeks get rosy; eyes clear and twinkle; impish grins are everywhere to be seen; the room rapidly fills with friendly smiles and the air acquires the fragrance of joy. Her educational and experiential classes serve to boost morale, improve retention, and encourage team-building and creativity. As a laughter specialist, Kathryn has appeared on CTS Network Television, CHCH News, Hamilton Community News, Cable 14 News Hamilton, Rogers TV and McMaster's radio station FM 93.3-CFMU.
Woody Woodpecker Laughter Exercise
Change Your Life With Laughter
Laughter Yoga Leader Certification with Laughter Yoga International

What is the Teaching Format?
This is an interactive learning experience. It consists of:
laughing lectures
small group discussions
practicums
gibberish laughter
open invitation to a retirement residence where we will lead a class together
lots of laughter
Why Should I Attend? This two-day certification course is designed to provide a solid foundation for anyone interested in learning laughter yoga either for personal or professional purposes. Laughing Kathryn will give you an in-depth tour of laughter yoga and how to lead it in a variety of settings including laughter clubs, corporations, health and wellness events, schools, hospitals, retirement communities, nursing care facilities, and persons with disabilities. Upon completion, you'll acquire the basic facilitation skills of how to lead a group of people through a laughter session and meditation. You'll also learn the history, concept, philosophy and different steps of introducing laughter and meditation in the context of laughter yoga. You'll spend time laughing, dancing, playing and meditating so you can go deep and transform yourself with laughter. That's the essence of laughter yoga and also the way to become an effective teacher. The goal of this course is to put you on the road to a more healthy, confident, vibrant and joyful life. The course concludes with a rollicking graduation ceremony in which you'll Laugh, Hop, Skip and Jump. Take the laughter pledge and be zealously awarded your laughing degree. You've never had such fun at a graduation ceremony!
What You Will Receive:
Laughing Laura's original Laughter Yoga Manual
Certified Laughter Yoga Leader Certificate (valid for life) signed by Dr. Madan Kataria and Laughing Kathryn
Dr. Kataria's e-book Inner Spirit of Laughter
Six months free access to: (www.laughteryoga.org/prozone) – resource centre for Laughter Yoga leaders and teachers
Additional handouts
ongoing Laughter Yoga classes at my club to practice leading a class
All-in-all, a total cost of over $360
Cost:
$315 regular rate
Early bird: $300 no later than 10 business days prior to course start date.
Bring a friend, save $15; bring two friends, save $20
Training without certification and associated materials: $99/one day, $199/ two days
If staying overnight at the Admiral Inn, single occupancy is $129.95: double occupancy is $139.95
payable directly to Admiral Inn.
Please contact

905-529-2311

for booking for a room.
Space is limited. Minimum of six people. Completed Registration Form and Full Payment must be received at least ten business days before the training to reserve a space. If participant cancels, their registration, a $60 cancellation charge will be applied. All cancellations should be submitted in writing by email.
Please register for the workshop before October 15 to assure a spot.
How Do I Register?
To register phone direct: 905-574-1765 or email: Kathryn@LaughYourselfHealthy.ca
$155 payable upon registration, balance due 10 business days before the training to reserve a space, payable by e-transfer
Payment options: Bank money transfer or Paypal via email request. We encourage you to register by bank money transfer to save us the Paypal fees.
Pay in Full by Oct 15 – $300
Pay in Full after – Oct 15 – $315
Pay deposit only now $155 (Balance by Oct 15)
The balance is payable by e-transfer
Space is limited at this highly-sought seminar so enroll as soon as possible. Please register by Oct 15, to ensure a spot.
Bring your friends and let's pack the place with laughter and levity! YEAH!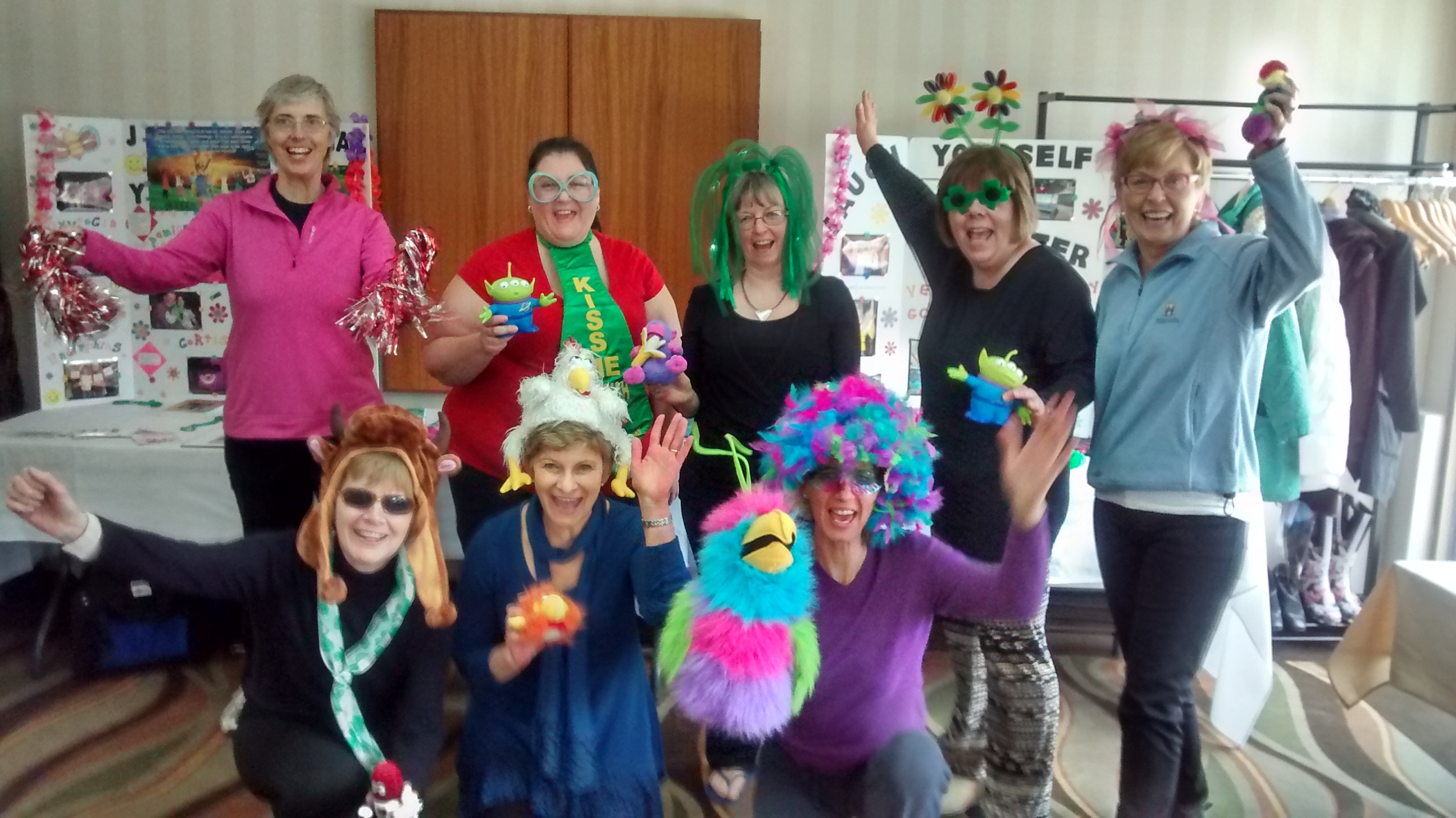 "I'm happy that I have brought laughter because I have been shown by many the value of it in so many lives, in so many ways."
Lucille Ball